Low Income Housing
Low Income Housing includes safe, clean, and affordable apartments, homes, and non profit resources. Our service is free to people in need of low income housing.
Via Del Mar Low Income Apartments
124 W Beach St
Watsonville, CA - 95076
831-761-7217

Recommended Step
Landlords often favor applicants with a high score.
Check your Credit Score Here
Click Here To Join Free
and see the email address and website for Via Del Mar Low Income Apartments. We provide this information when we have it.
40 apartment low income apartments for families. they provide 1, 2, and 3 bedroom apartments.
Minimum and maximum income limits apply.
Child care facility that has a capacity of 32 children.
Near the Watsonville Transit Center.
Apartment rates as of March of 2012:
1 bedroom: $382 - $823 per month
2 bedroom: $451 - $981
3 bedroom: $515 - $1128.
Call for current updated rates as they are subject to change.
The apartment are run by Mid Peninsula Housing. We provided the website above.
What Via Del Mar says about their apartments:
Via del Mar is a key element of an overall downtown revitalization effort in Watsonville. While the local economy is dominated by agriculture, Watsonville's location in Santa Cruz County and proximity to affluent communities has pushed rents up to levels that are unaffordable to many who work in the fields or service industry. The City of Watsonville leased the Via del Mar site from the Santa Cruz Metropolitan Transit District and then sought MidPen to develop the affordable housing community with designated apartments for farmworker families. Via del Mar includes a child care center for residents and their neighbors, operated by the Head Start Program. It is also within walking distance to downtown and public transportation, shopping, social services, library, schools and other educational facilities and cultural venues.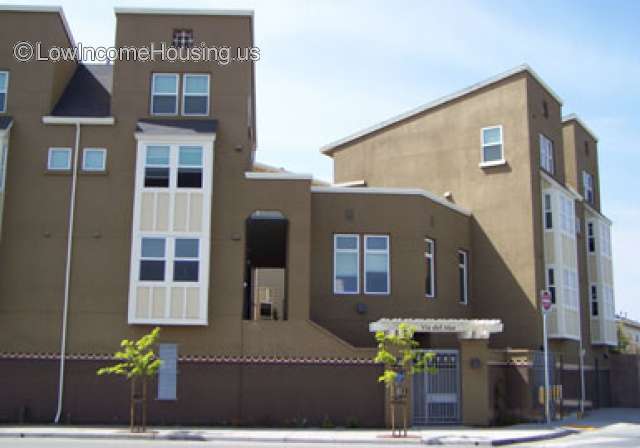 Have you had an experience with Via Del Mar Low Income Apartments?
Leave a Comment. If you have a question for the apartment, please call the phone number posted above.
* Email us at lowincomesupport@gmail.com if there is an issue/problem with this listing.
Closest Area Low Income Apartments
Nationwide Search
Search our nationwide database of Low Income Housing.