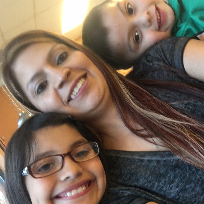 Breaking the silence and asking for help!
Help Mary of Sunnyside, WA
Hello my name is Mary I have 2 beautiful children ages 12 and 7 who currently reside wit my sister because I didn't want them living like this!! These last couple of years have changed my life dramatically. I am 44 yrs old and I am suffering from stress, anxiety, and PTSD. I was in a domestic violence relationship for 2 1/2 yrs, he has beat me black and blue, choked me until I've passed out, threatened to kill me but I finally got the courage to leave. I am struggling everyday because me leaving him has cost me a lot. He took everything I owned and told me he was going to sell it so I am left wit only the clothes I am wearing. I got a new phone and I have no idea how he got my number but he did.......now he was calling telling me he's sorry and how much he loves and misses me. It's what he does all the time but this time I didn't fall for it. I am terrified of this man I find myself always looking over my shoulder and no one deserves to live that way. I have blocked him on all the apps he can try to contact me on and I'm in the process of getting a protection order done. I currently am also homeless I've been sleeping here and there, in cars I guess any place I gave to. I have been trying to find resources to help me get through all this, but everywhere I call tells me nothing available or try this agency and it's pretty frustrating!! I'm from this little town that does not have much but I'm still trying I'm not going to give up that easy! I am doing this because also along the way my car broke down. So yes I've contacted churches along with other agencies but nothing........so yes I'm a victim of domestic violence, homeless,unemployed and wit no car. The struggle is real and very scary I just want one good thing to help me then I know I will make it. What I am needing is housing for me and my children so we can be a family again, a good job, and help fixing my car. Thanks to everyone who reads this And helps
Donations to Mary Miranda go directly to Mary and are not made to LowIncomeHousing in any way. Low Income Housing is meerly a mediator between donators and people in need. Donate at your own risk.